Does your bad debt reserve provide sufficient coverage for your business? Think again.
Provisioning for bad debt makes good business sense. Even if you have a good relationship with your customer and they have traditionally been 'good payers', things can go wrong. You don't need to look far to find examples of unexpected bankruptcies from Thomas Cook to Toys"R"Us, from Dick Smith to Revlon. No business is too big or too old to fail. The key, however, lies in what you do to protect your business from customers that fail to pay – or delay paying – their invoices.

The dangers of self-insurance
Some businesses choose to build up bad debt reserves. In effect they opt to self-insure and commit to using their own bad debt funds to cover any write-offs.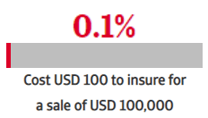 This can be a risky and costly approach. What if your biggest customer folds? Will you have enough to cover the debt? A sale of USD 100,000 may cost around USD 100 to insure. But, if your customer defaulted, with a 10% margin you would need to do one million dollars-worth of trade to offset the loss. Whenever a business asks me whether they can afford trade credit insurance, I ask them whether they can afford not to.
Self-insurance may slow growth
Businesses that self-insure may miss out on valuable opportunities for growth. This is because if you have a trade credit insurance policy as a central part of your credit management strategy you can enable your sales teams to make prompt and potentially lucrative deals. As the Finance Officer or Credit Manager you will have the tools you need to authorise a low-risk credit sale. However, for many companies without the safety net that credit insurance provides, any new request credit may require a potentially lengthy authorisation process and could result in prospective buyers looking elsewhere.
__________________________________
"Since working with Atradius, we have acquired a number of companies knowing that we can expand our business activity with a consistent approach to credit management. We are also pursuing new partnerships and investing more into resources."
_________________________________
As Kelvin Teo, General Manager of Chong Cheong Foundry Works explains: "We get immediate feedback on whether the credit limit for a company is approved or needs further review, and if an appeal is needed, the process is seamless." The Singapore-based business reports that the business unit which took out its first credit insurance policy saw revenue double between 2019 and 2021, with further growth currently projected. Mr Teo adds: "Since working with Atradius, we have acquired a number of companies knowing that we can expand our business activity with a consistent approach to credit management. We are also pursuing new partnerships and investing more into resources."
Being able to seize opportunities while protecting the business from the threat of bad debts is a benefit also highlighted by Brendan Evans, CEO of Australia's Petro National. Describing how his company grew tenfold over a period of four years, he says: "Growth and mitigating risk go hand-in-hand. Trade credit insurance lets us minimise the potential for loss and provides confidence to expand the business on that basis."
A bad debt reserve may not be cost-effective
Credit insurance can help you make your money work smarter. That is because most trade credit insurance policies are cheaper than you might think. So setting aside cash to cover losses from bad debt instead of paying an insurance premium may not be cost-effective.
Although individual policies vary according to the size and level of risk, most premiums cost less than 25 cents for every USD 100 worth of sales. This outlay is even smaller when you consider the additional sales you would need to generate to cover a loss.
Most policies are also priced as a percentage of your turnover. This means that if you make a little less one year, the cost of your insurance premium will also go down and should remain affordable. So, if a policy is not as expensive as you might think and will flex according to your needs, would you still need to maintain a large reserve for bad debt, or could you invest some of that extra cash into your business?
Make your money work smarter, not harder
Imagine you no longer need to keep USD 1 million set by to cover the risk of a bad debt. Your credit insurance has you covered, and your trade is safe. What would you do with that cash? What advantage could you create over your competition by investing in new equipment, employees or capability? Could you build your presence in a new area? Could you explore new product lines or grow your offer? Could you, like Chong Cheong Foundry Works, invest in acquisitions and help further your growth?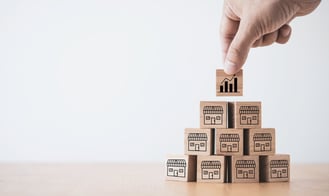 This is what we mean when we ask if your bad debt fund is stifling your growth. If credit
insurance could help you release funds to invest in your business, does holding onto a bad debt fund represent a backwards step in the overall picture of your business growth?
Is self-insurance a false economy?
Some businesses may feel that maintaining a pot of cash and avoiding having to pay credit insurance premiums represents a saving. However, this doesn't account for the additional costs that such a self-insurance approach incurs. For example, a business that self-insures may have to pay for external credit reports and debt collection services. These are both included at no extra cost as part of an Atradius credit insurance policy. What's more, most trade credit insurance policies give policy-holders access to independent credit ratings, credit reports and business intelligence that is often not available in the public domain. These are powerful tools and can empower credit managers that want to develop strong credit management strategies for their businesses.
An investment in credit insurance is an investment in your business
Without the safety net of credit insurance, businesses risk losing out to potential lucrative business deals. Your sales policy may need to be cautious and you may avoid taking on a new customer or exploring a new market that is unknown to you. However, credit insurance can give you confidence to engage with new buyers, because you know that no matter what happens, you will be paid (either by your new customer or by your insurer).
__________________________________
Credit insurance can give you confidence to engage with new buyers.
_________________________________
In this respect trade credit insurance is very different to a classic general insurance. Fire insurance, for example, simply pays out if a disaster happens. Trade credit insurance, however, works with you to help you identify and monitor creditworthy customers. And once identified, your credit insurance will give you the confidence to offer attractive and competitive terms. Ultimately, you can proactively use your credit insurance policy as a tool for growth.
Supporting you across Asia
Atradius has a strong presence in Asia, bringing a wealth of international trading experience to the region since 2000. From our offices and through our co-operation with local partners in Asia, we provide the highest level of credit management and trade support.
With our regional headquarters in Hong Kong, we have an extensive network across the Asia region, from east to west: China, India, Indonesia, Japan, Malaysia, Singapore, South Korea, Taiwan, Thailand, the UAE and Vietnam. By drawing on the in-depth knowledge of our risk experts on the ground, we help homegrown and foreign businesses navigate varied economic conditions while enabling them to increase their trade with both new and existing customers with confidence. In many parts of Asia, we support local leading insurance partners, who issue trade credit insurance policies, which are in line with our risk assessment and underwriting standards.
To start investing in safer trade: Contact us for a free consultation
Not all trade credit insurers offer the same services or policies.
Download our trade credit insurance buying guide for ten top tips on what to look for when buying credit insurance
All content on this page is subject to our Disclaimer, available here.