Trade in Asia – Indonesia
Indonesia: A sleeping giant stirs to life
Indonesia, Southeast Asia's largest economy and the world's fourth most populous nation, has always seemed to punch below its weight. But that may be changing as the country's solid economic fundamentals, stable politics and newfound role as a neutral interlocutor to feuding global superpowers seem to equip it with the right tools to weather the ongoing turbulence in the global business environment.
The summit of G20 nations in Bali held in November 2022 – where the world's third largest democracy provided a platform for the US and China to begin mending their relationship as well as devise plans to address some of the most pressing issues of the day, including climate change, the war in Ukraine and sustainable economic growth – offered a window into Indonesia's potential for playing a more prominent role on the global stage.
Indonesia at a glance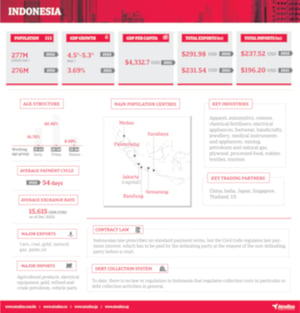 State of the economy
Indonesia is blessed with an abundance of natural resources that have made the country a major exporter of key raw materials. The world's largest producer of palm oil, a ubiquitous ingredient found in many consumer goods, it also has the world's largest reserves of raw nickel, a critical component of the lithium batteries that power electric vehicles (EVs).
Even as it seeks to become a regional hub for the booming renewables and EV industries, and provide a much-needed boost for its manufacturing sector, Indonesia has continued to prioritise investments in infrastructure to better link the archipelagic nation made up of thousands of islands, and more evenly distribute the benefits of its fast-growing economy.
Over a dozen airports, seaports and thousands of kilometers of new roads are under construction in various provinces. Meanwhile, a sweeping set of policies proposed under the Omnibus Bill are opening up dozens of sectors – including telecom, transportation and energy – to foreign investors as well as streamline the licensing process to enhance the ease of doing business in the country. Efforts are also underway to reform labour laws so that they equally benefit workers and employers.
President Joko Widodo's administration has also managed to attract investments worth USD20 billion from several countries to support its bid to bring carbon emissions to zero by 2050. At the same time, the government has adopted an unconventional policy of banning the export of raw materials such as nickel, in a practice known as downstreaming, to encourage investors to channel funds towards supporting the local manufacturing sector.
As investments, which rose over 63% year-on-year in the third quarter of 2022 to USD10.8 billion, pour into the country, including into key growth sectors, Indonesia is poised to grow at a relatively healthy clip of 4.4% in 2023. At the same time, with exports still accounting for only a small portion of GDP, there is immense scope for future growth as the country seeks to build out industries up and down the value chain with an aim to becoming a USD3.5 trillion economy by 2030.
__________________________________
Indonesia is getting ready to offer a vast array of opportunities for sustainable growth in the years to come.
_________________________________
Challenges and risks
To be sure, the country's vast potential comes hand in hand with a number of challenges that companies looking to conduct business in Indonesia must be mindful of.
From a macroeconomic perspective, the current global business environment – marked by rising interest rates, high inflation, volatile commodity prices, geopolitical tensions and the lingering impact of the Covid-19 pandemic – present a significant challenge. The country's high dependency on imports also poses a considerable risk especially when the rupiah remains weak against a strong dollar. Yet another hurdle is the country's large middle-income population, which, like in most emerging markets, remains highly sensitive to inflation and related price increases. This can hurt demand and impede growth in a number of consumer-focused sectors.
From a trade credit risk perspective, companies continue to cope with liquidity constraints, which were cited as the main cause of a rise in payment defaults and bad debts, according to the 2022 edition of the Atradius Payment Practices Barometer (PPB) report. As companies strove to stay competitive in a tough market, they resorted to offering longer credit periods, which resulted in average payment periods from the invoice date increasing to 54 days from 43 days a year ago, the report found.
Furthermore, while Indonesia is now ranked #73 in terms of ease of doing business – a big improvement from #120 in 2014 as the country has made big strides in reducing red

tape and encouraging entrepreneurship – regulations around payment terms remain lax. This means Indonesia has some of the longest payment durations compared to some of its peers in the region, adding a significant amount of credit risk for companies.
Additionally, sales contracts are not standardised so companies must pay close attention to the fine print to ensure terms and conditions are satisfactory before agreeing to a deal. The lack of an efficient legal system, which is a given in more mature markets, and backlogged courts also mean cases involving debt restructurings, defaults and bankruptcies take an inordinately long time to be resolved. Companies respond to the procedural and regulatory vacuum by relying on trust built on the back of longstanding relationships, which means working with a partner with close ties to the region and a solid understanding of local business customs is of paramount importance.
These challenges also underline the need for companies looking to operate in Indonesia to seek professional advice from experts, such as trade credit insurers, which can help navigate the complex regulatory systems and cultural mores, accurately assess risk and negotiate contract terms, as well as provide debt collection services in the event of default.
For instance, Atradius works with local information services experts with in-depth knowledge of conditions on the ground to help companies mitigate credit risk and identify opportunities for growth domestically and abroad. Indeed the Atradius report points to a growing reliance on credit insurance in the country as companies become aware of the value of strategic credit risk management, with one quarter more Indonesian businesses saying they used credit insurance or purchased specific trade finance solutions. Looking ahead, the survey also indicated businesses were increasingly confident of an improvement in payment practices in coming months, which bodes well for companies looking to enter one of the most promising markets not just in Asia but globally.
Economic outlook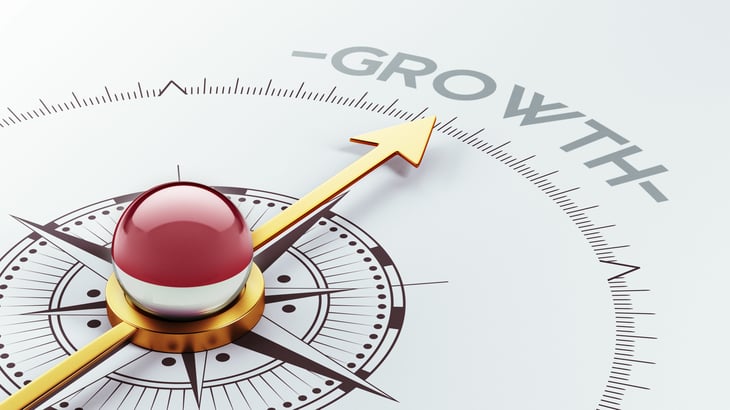 Among the fastest growing major economies in the world, there is no doubt Indonesia has enormous potential. The country's growing middle class provides a large market for a number of consumer-focused sectors, with USD80 billion being spent annually on digital services alone. Meanwhile, its 135 million-strong working-age population also offers global companies a deep pool of low-cost labour unmatched by other countries in the region, with the possible exception of Vietnam. Indonesia also offers a number of tax incentives to attract foreign investors to various labour-intensive industries.
The world's sixth-largest emerging market by GDP, Indonesia is focused not only on enhancing its physical infrastructure – which support the growth of various sectors, including tourism – but also taking the lead in promoting environmental, social and governance (ESG) initiatives. Blessed with political stability, the democratically elected government is also pushing ahead with efforts to modernise its energy infrastructure and adapt renewables, which could help the country take on the enviable role of being a net energy exporter.
Overall, for businesses willing to take the long-term view and conduct the due diligence required to effectively mitigate the various challenges – a necessity in order to establish and grow a business in any foreign market – including by working with partners on the ground, Indonesia should be regarded as a sleeping economic giant slowly stirring to life, and getting ready to offer a vast array of opportunities for sustainable growth in the years to come.
This article was produced with the help of insights from the following Atradius experts: Roeland Punt – Regional Sales Director, Asia; Jetse van Hee – Country Manager, Indonesia; Barianda Ekaputra – Senior Underwriter, Indonesia; Harris Yanto – Head of Commercial, Indonesia
All content on this page is subject to our Disclaimer, available here.